Lauzon Pure Genius Flooring – Flooring That Cleans Your Air – Seriously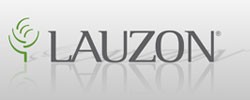 Close your eyes and say the words "Smart Home." What comes to mind? Probably a fridge that tells you when you need milk, or voice controlled lighting, TV and window shades. But does your vision of a smart home ever factor in the floor?
It should.
Lauzon Flooring – no stranger to innovative flooring approaches, has introduced to North America something never seen before – a smart hardwood flooring that actually improves indoor air quality (all while making any space far more beautiful). Pure Genius, as it's called, is a special coating that transforms your floor into a smart floor.
How can a floor be a smart floor?
By now, savvy consumers have grown wary of several terms du jour, like "organic" or "smart." They want proof that the product is as it's marketed to be. So how does Pure Genius actually demonstrate its "Smart"-ness?
The specially coated floor is activated by light (either natural or artificial), and breaks down airborne toxins, and as a result creates pure air in your home. Independent studies have proven that the air inside a home featuring Pure Genius is up to 85% cleaner than the air of a home without Pure Genius. Cigarette smoke, pet urine, and lingering cooking smells are all reduced thanks to this latest innovation.
The smart floor uses a patented titanium dioxide technology to decompose bacteria, viruses and molds, and transforms toxic airborne particles into water and carbon dioxide molecules.
Pure Genius for a healthier living space
At this very moment, without you realizing it, every day and objects in your home – like counters and furniture – are likely emitting toxic contaminants into your home. In most homes, little is done to combat these toxins, despite the effects they can have on the health of our loved ones and ourselves.
But installing Pure Genius flooring is the equivalent of planting three trees in your home, because of the type of air purification this innovation provides. By providing a consistent flow of circulated air – activated by light – your home's air quality will improve drastically, without your having to do anything at all.
Pure Genius's air purification effects reduce the symptoms of respiratory problems, reduces potential carcinogens, decomposes bacteria, viruses and molds, minimizes odors and, in short, improves the air quality of your home by up to 85%.
But is a smart floor a good floor?
The very idea of flooring that improves your air quality is alluring, surely. But what good's a smart floor if it doesn't look – or function – the way you want it to? But because Pure Genius was designed by Lauzon, quality and beauty were at the forefront of the creation. The Pure Genius special coating can be added to almost any Lauzon flooring line, and doesn't degrade over time. Pure Genius is a built-in feature in the manufacturer's new Authentik oak flooring and Organik maple flooring series, but is also available as an option on all Lauzon Ambiance Collection products, as well as in many products in the Designer Collection line.
Each of these flooring collections boast beauty and brawn. And, in fact, Pure Genius does more than make your air cleaner – it also helps keep your floor cleaner too, thinks to its ability to disperse hardwood cleaners more effectively than other floors.
For more information call one of our design consultants at: 1-800-764-1633
More about Lauzon Distinctive Hardwood Flooring
Lauzon is based in Quebec, Canada, and is one of the leading hardwood manufacturers in all of North America. They are among the forefront of environmentally sustainable flooring, including managing a forest larger than Connecticut, and employing manufacturing methods that allow for zero waste. Their unique sawmill concept uses more of every tree than most manufacturers, meaning the company doesn't have to cut down as many trees. Ever since 1995, the company has converted its wood residue into recycled energy.
Lauzon was founded in 1985 by David Lauzon, and since then has found new and exciting ways to reimagine flooring. In 1999, the NextStep Collection changed the flooring landscape by combining the beauty of solid-sawn hardwood with a specific milling process that ensured maximum durability.
In 2002, Lauzon did it again, by being the first to offer a treatment that slowed the yellowing process of wood floors. Just three years later, the company launched Titanium Traffic, a superior finish designed for light commercial use. Then, in 2007, after a $50,000,000 investment that converted the company's Thurso sawmill into a hybrid facility, Lauzon was able to cut each log based on the finished product required by its customers.
And now, in 2014, Pure Finish has come to light to create the smartest wood flooring on the planet, that just happens to be tied to the beautiful Lauzon collections.
For more information call one of our design consultants at: 1-800-764-1633